Saber OVNS W01 Pod Kit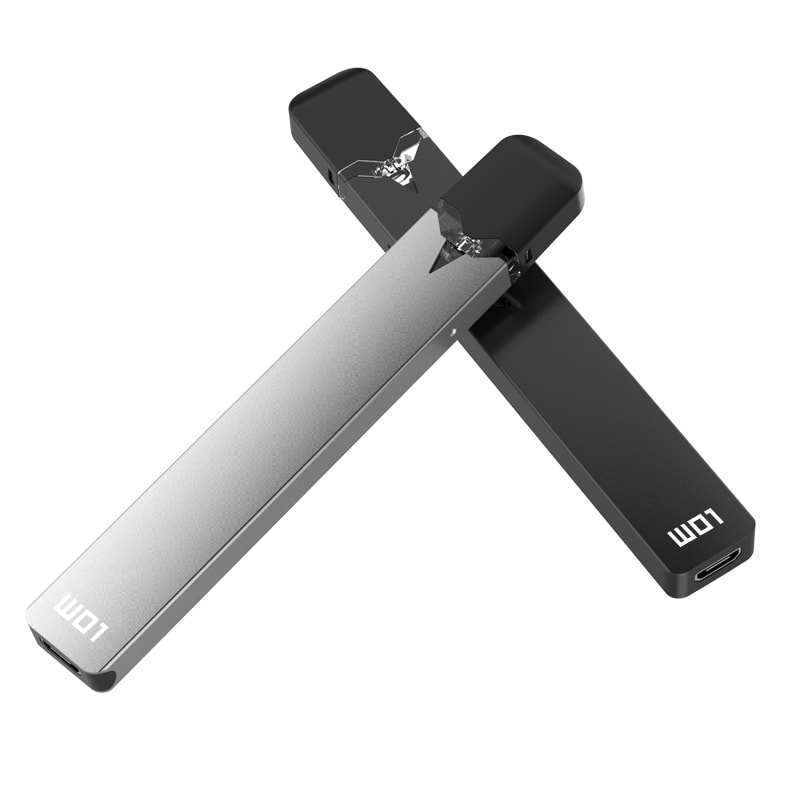 DESCRIPTION
Saber Ovns W01 pod kit is Compatible with the Juul Pod Kit
Refillable
Easy to use.
Air switch design.no buttons or settings,
Saber Ovns W01 Pod kit is the smallest CBD Vape Eliquids device available on the market..
Tiny size, lightweight, portable to carry.
Built-in 280 mAh battery with Micro USB slot for convenient charging.
LED indicators showing real time battery status with bottom LED light bars as decorations
Saber Ovns W01 Pod kit is compatible with Juul Pods.
Idle for Vaping our Cannapresso CBD Vape Eliquids.
Small, powerful, compact and a built quality that cannot be rivalled, reliable.
Refillable Cartridge According to your needs.
Different Colours choose from.
Magnetic Connection for more Convenient use
Built-in 400 mAh battery with Micro USB slot for convenient charging.

Air switch design, no buttons and or settings
KEY FACTS:
 Saber Ovns W01 Pods
Model No. Saber W01 Pod.
Pod Capacity: 0.7 ml
Coil Resistance: 1.8 ohm (TDP Compliant)
kit Size: 100 * 15 * 7mm
Battery Capacity: 280 mAh

Max Wattage: 7.2W.
Operation Guide:
Resistance Range: 1.8ohm
Working Voltage: 3.2V-4.2V
Standby Current: 5μA(MAX)
Charging Current: 400mA-500mA(MAX)
With Cell: Lithium 400 mAh Built in
COLOURS TO CHOOSE FROM:
Product Quality and safety:
Rest be assured that you can vape using our Cannapresso CBD Vape Eliquids without any reservations.
All of our products are extremely safe, guaranteed to be a pure, unaltered products with no synthetics.
Our Cannapresso CBD Vape Eliquidse created with the Finest natural whole plant concentrates and would work exceptionally well with these Saber Ovns replacement W01 Cartridges providing lasting relaxation to a demanding day.
All Saber Ovns W01 Pods have Certifications CE, ROHS
MOOD:
A perfect way to relax after an exhausting day!
This Saber Ovns replacement W01 or Juul Cartridge
With a Great CBD Vape Eliquid will elevate you mood and keep you smiling.
We offer a choice of natural flavours to choose from our exceptional range of CBD Vape Eliquids;
Mango,
Strawberry,
Grape and Blackcurrant
Tobacco.
HOW TO USE:
The OVNS Pod Kit come with a manual please take the time and read thoroughly before use.
Conservative dosing is highly recommended to determine your personal psychoactive effect.

When using our Cannapresso CBD Vape Eliquids.
RECOMMENDED STORAGE:
To maintain, efficiency, store at room temperature, and out of sunlight.
For best results, keep product in a cool, dark place.
Exposure to heat or sunlight may cause degradation or loss of potency.
WARNING:
Do not use if pregnant or lactating.
Allergen Information: Manufactured in a facility which produces products that may contain nuts, dairy, wheat, gluten, egg and soy products.
Always consult a medical doctor before modifying your diet or using any new product.
This product is not intended to diagnose, treat, cure, or prevent any disease. These statements have not been evaluated by the food and drug administration
MUST BE 18 TEARS OR OVER TO PURCHASE THIS PRODUCT.
https://www.instagram.com/thecbddispensary.online